Kevin Garnett And Kobe Bryant Are Already In NBA 2K18 Rosters
u4nba
Date: Aug/27/17 16:41:42
Views: 2597
Since NBA 2K18's release date is approaching, a variety of features have been announced. What's more, it's free prelude demo will be available on September 8 and their will be a NBA 2K18 Kick off event on August 31. The release of NBA 2K18's all-time teams has produced quite a bit of reaction. We have collected full news and guides for the NBA 2K18, with tips and news to better help you out, click for source.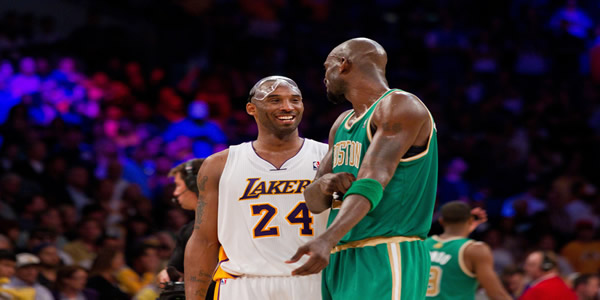 Kevin Garnett and Kobe Bryant are already in NBA 2K18 as part of a few all-time rosters, but as it turns out, the duo will also be in the game in a very different way. It was announced on Saturday that the two former NBA stars will be broadcasters in the latest 2K Sports basketball game. Letting Kobe and Kevin Garnett go at it with the best ever in the NBA is a huge boost to the video game series that's already one of the best sports sims on the market, but these kind of features are huge boosts to the game's appeal as well.
NBA 2K18 will feature special guest commentary from legends like Kobe Bryant and Kevin Garnett. Both of whom are former NBA 2K cover athletes. That's an exciting addition to the commentary side of the game, and something we've never seen done before. It's unclear whether the retired players will join the announcer's table during games, or if they will be a part of the pre-game, halftime and post-game shows.
The team here at visual concepts has made some huge strides with the game this year. In NBA 2K18, the developers are taking MyGM to the next level. They are introducing an experience you won't find in any other game, a narrative-driven story-based franchise experience that maintains all of the user control and team building aspects that you have grown to love from MyGM over the years. More news and guides, please visit the link: https://www.u4nba.com/nba-2k18-mt/.