NBA 2K17: Win MT Rewards From Moments Challenges
u4nba
Date: Dec/28/16 13:02:07
Views: 2320
After NBA 2K17 released the special tasks MyTeam Moments Challenges which change every week, it gave a great opportunity for gamers to earn decent MT. Some of them can be very difficult to achieve, especially the ones that require you to score 50 or more points with just one player.
NBA 2K17 moments challenges can bring great MT rewards for successful players. So it's very useful to complete them and strengthen your perfect team. Here are some tips and tricks that can help improve your gameplay.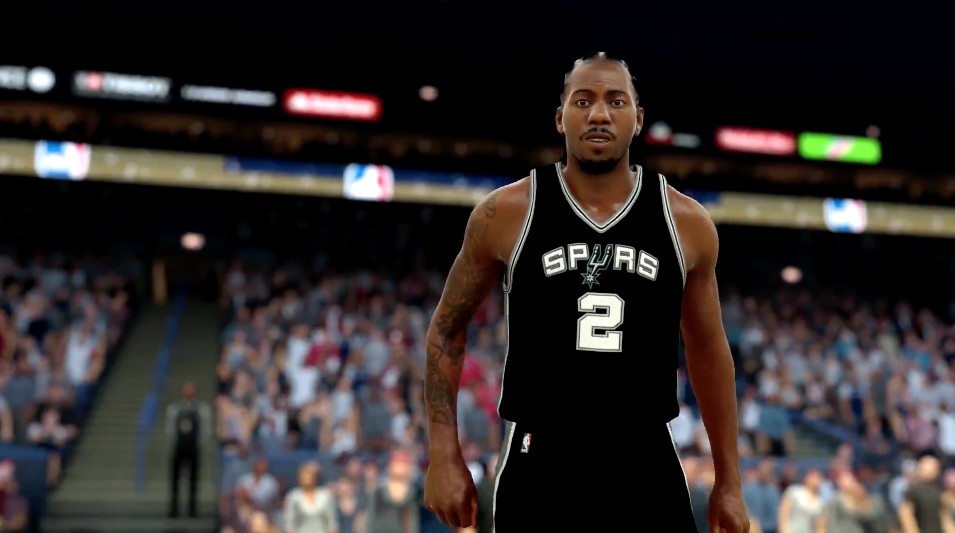 You Should Know Before Playing
Some of the NBA 2K17 Moment Challenges will require a particular NBA player to do the job. Play pick and roll with the target player. Use a good passer and play pick and roll so that the target player sets the screens. As soon as he gets open, go for a shot or a layup. If you do not have his card, simply go to the auction house and get it. Consider selling the card once you no longer need it since this can help you collect more MT.
There are also instances where NBA 2K17 players will need to acquire players from a particular team. You may not need them but the Moment Challenge requires you to do so. Simply get the most affordable ones and have them wait on the bench during the challenge. You can always send them to the auction house once the play is over. Once you get better in the game, you are also rewarded with better players.
Wearing the right shoes actually counts a lot in NBA 2K17. The footwear can actually increase your player's rating as well as equip badges. Don't worry if your player does not have any, simply go to the auction house and buy him a pair. Make sure that the shoes you pick will increase your player's stamina level. Also, use all of your timeouts to keep all the players fresh and rested.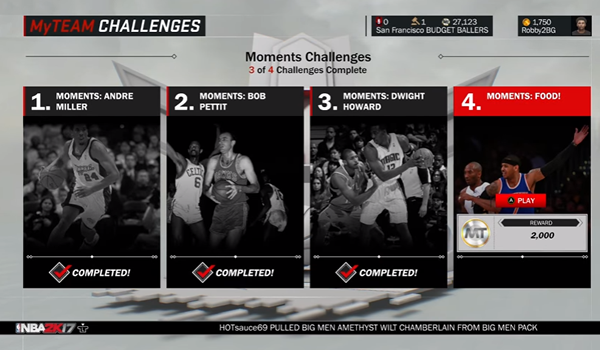 When You Are Playing
When playing a challenge that requires you to achieve a certain number of rebounds as a team, you should rely on good physical defense. This will make your opponent miss their shots and your big men will be there to grab the rebound. Also consider using good defenders as guards and dominating big men at power forward and center positions. The key is to make your opponent miss as many shots as posible, which will give you a chance to grab the rebounds.
If your player has great dribbling moves, you can have him play one on one in order to score quickly. You can also call for isolation play for the target player and play one on one for some easy points. This is especially useful if the target player has some great drible moves that can separate the defenders.
If you are short on points, it's good to start fouling your opponent and send them to the line. Use your intentional foul button as soon as they start their attack. This will grant you more possessions and you will have more time to complete your challenge. This is especially useful if you are already in the lead, or your opponent has bad free throw shooters.
The Key Strategies
NBA 2K17 players should keep in mind that achieving the required points is meaningless if you loss the match. Just like in a real basketball game, it pays to have a good defense. The key is to have your team possess the ball as much time as possible. Intercepting opponent's passes or even fouling them is acceptable strategies. If you are looking for some bonus MT, you need to try at least 5 shots from the 3pt line and shoot 10 free throws. The better the percentage of those shots, the more MT you will get.
Assist challenges that require you to achieve a certain number of assists as a team can be much more easily completed with good use of pick and roll and lead to basket pass. Doing an alley-op after a good pick and roll is also a nice option.
In some situations, going into overtime could be a good thing. If you still haven't completed the challenge and the result is close, try to extend the game by going into overtime. You will have several extra minutes to play around and achieve the target goal.
If you have any tips on NBA 2K17 Moments Challenges, please follow our official media and share with us.