NBA 2K23: How to Upgrade and Respec Attributes?
u4nba
Date: Oct/25/22 10:34:05
Views: 1061
Attributes are essential in a competitive sports game like NBA 2K23. Your created character has a lower OVR, which can be upgraded after increasing the attributes. This guide will show you how to Upgrade and Respec your player's attributes in NBA 2K23.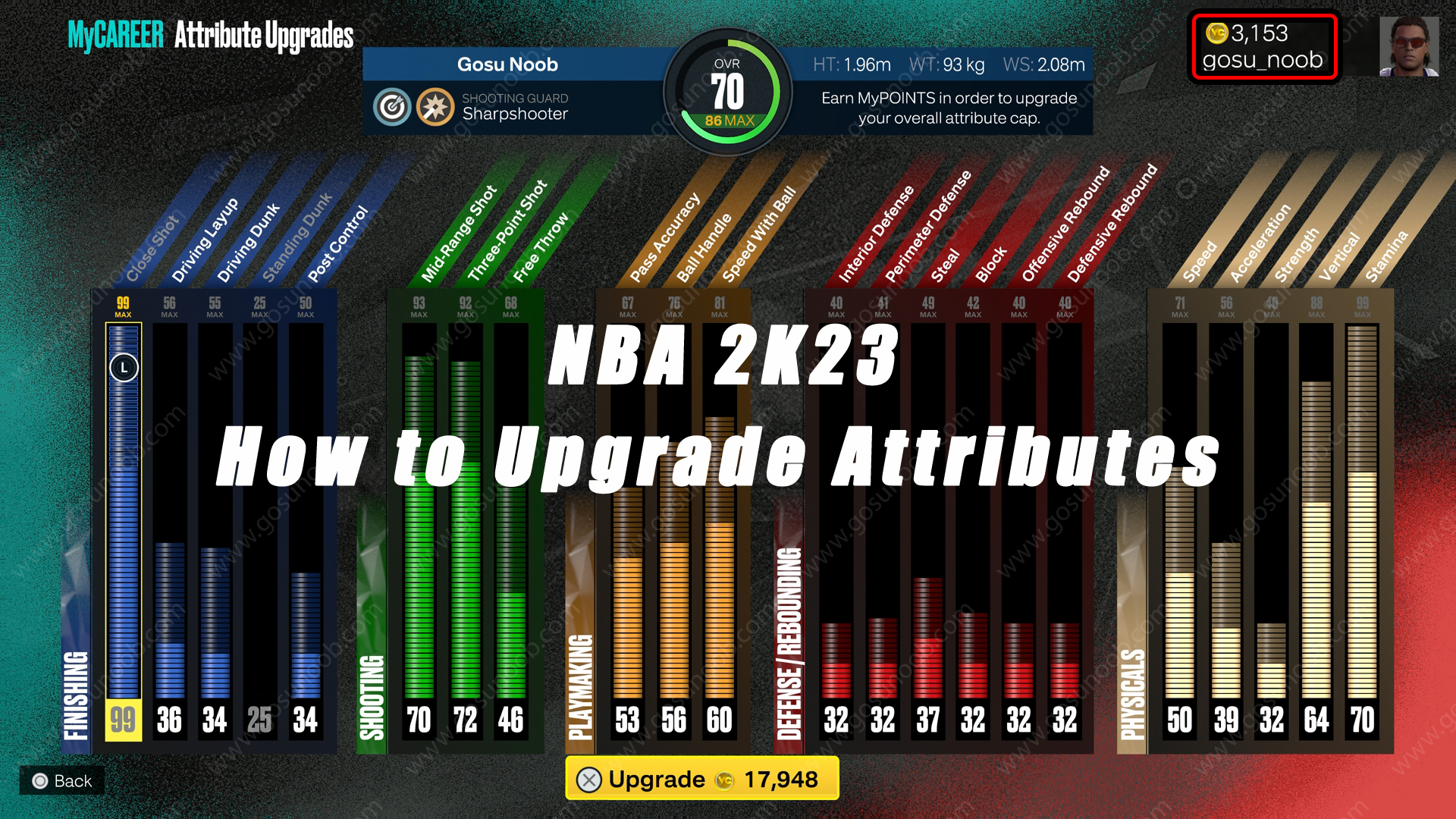 NBA 2K23: How to Upgrade Attributes?

Here, we have explained what you need to do to find and upgrade your player's attributes:

1. How to Get More Attribute Upgrades in NBA 2K23?

Attribute upgrades can be acquired using VC (It is as essential in the game as NBA2K23 MT). Therefore, you must collect as much VC as possible while playing the game to upgrade your character's attributes. Here are some quick tips:

1). Play Career Games to earn VC

You must play Career games in NBA 2K23 to earn VC or Virtual Currency. Likewise, you can use the VC you earn from Career Games to upgrade attributes.

2). Participate in different activities as well as different events

You can also participate in different activities and events to earn VC. Then, you can use the earned VC to upgrade your attributes in the game.

3). Purchase VC packages

You can also purchase VC packages for real-world money instead of earning them from in-game activities. Likewise, using this method, you can get the VC necessary for attribute upgrades without much grinding.

4). Endorsement Deals

Another thing you should take a look at is your endorsement deals. If you are under a max contract, a thousand VC per game that's already guaranteed, endorsements do help.

2. How to Upgrade Attributes at NBA 2K23?

Upgrading your attributes in NBA 2K23 is easy. To do so:

1). Head to the Progression menu and select the Attributes tab – this will take you to a screen where you can upgrade them.
2). To upgrade an attribute, you'll need VC – the game's virtual currency players earn by playing Career Games or participating in other activities.
3). If you don't want to work for it, there are VC packages available that come at the cost of real money.

A key point to remember when upgrading attributes is the cap – these show what kind of MyPlayer rating someone can start with before they're capped out at 85 points overall. When they reach this amount, they won't be able to level up fully until they increase their attribute cap accordingly. To increase the attribute cap, you must play a lot and gain experience, which will be measured through MyPoints. Changing your difficulty settings will also help you in earning these. Once you have increased the cap on your attributes, you will be notified with "Attribute Upgrade Available," which you can then get with VC.

3. Which Attributes to Upgrade First in NBA 2K23 MyCareer?

These are generally the most important ones to upgrade first:

• Three-Point Shot (Around an 80 is good)
• Driving Dunk (Upgrade as much as you need to get desired dunk animations/Badges)
• Pass Accuracy (At least 65 is a necessity)
• Ball Handle (85 unlocks pretty much all dribble moves)
• Acceleration (Affects how fast your player speeds up into stop-and-go motions)
• Speed with Ball (Ignore if a big)
• Defensive Rebound (Ignore if a guard)
• Perimeter Defense (Affects how fast your player defensively slides)
• Speed (Affects how fast your player sprints without the ball)
• Vertical (Upgrade as much as you need to get desired dunk animations)
• Steal
• Offensive Rebound
• Interior Defense
• Free Throw (Higher priority if you play mostly NBA and Rec/Pro-Am)

NBA 2K23: How to Respec Attributes in MyCareer?

Here, I will show you how to Respec your MyPlayer Attributes in MyCareer NBA 2K23:

In NBA 2K23, Respec Attributes allow players to make a new MyPlayer using the Rebirth Ability. This Rebirth Ability is achieved by completing the Rebirth Quests of Ronnie 2K. There are a few steps to complete this quest. Starting from OVR 65, players need to reach OVR 90 step by step to complete the quests and get the Rebirth Ability finally.

Once you have the Rebirth ability, all you need to do is activate it, and you'll start a new MyPlayer. You'll be able to respec the height and everything else that goes into making the best player. Once you use Rebirth, your new character will start at 90 OVR, have 25 badge points to spend, and everything quest and badge related will carry over.

The only problem with using Rebirth to respec your MyPlayer is that you'll need to spend around 200,000 VC to max out your build. You can get VC by the Races and 2KTV answers.

Luckily, if you are looking to respec your badges, you can respec your badges any time you want. If you wish to switch between games or try a new build, you are free to do that if you have unlocked badges.

That's all you need to know about how to upgrade and respec attributes in NBA 2K23. You can always keep up-to-date with U4gm.com for the latest game news and guides.