New Orleans Hornets And Indiana Pacers Squad Headed To NBA 2K18
u4nba
Date: Aug/21/17 16:24:26
Views: 1881
In NBA 2K18, at present, a classic New Orleans Hornets and Indiana Pacers squad confirmed. Chris Paul is the cover athlete for NBA 2K18, hence, New Orleans Hornets team is a logical choice. But until now, there are six unconfirmed teams, we will update latest news as soon as possible, you can visit website for details about the game.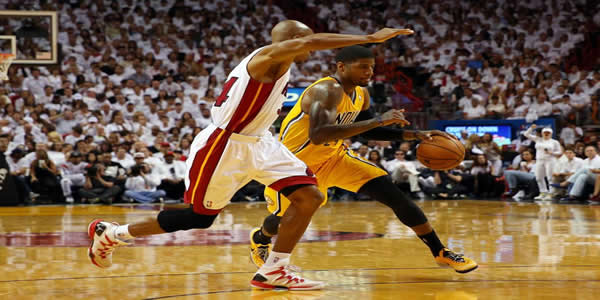 The Pacers pushed the Miami Heat to six games that year before being eliminated in the Eastern Conference Finals. It was led by a 23-year-old Paul George who averaged 21.7 points per game. West, Lance Stephenson, George Hill and Roy Hibbert were also major contributors on the team.
Paul George was named an All-Star starter and Roy Hibbert joined him on the team as a reserve with Lance Stephenson narrowly missing out. Frank Vogel coached the East All-Star team too. The basic statistical leaders that season featured Paul George for points (21.7 per game) and steals (1.9 per game), Lance Stephenson for rebounds (7.2 per game) and assists (4.6 per game), and Roy Hibbert for blocks (2.2 per game).
Paul's teammates were a 27-year-old David West, a 25-year-old Tyson Chandler and a 30-year-old Peja Stojakovic. The 22-year-old Paul led the Hornets to a 56-26 record and the Southwest division title. They lost in seven games to the San Antonio Spurs.
In an attempt to bolster their roster heading into the playoffs, the Indiana Pacers signed Andrew Bynum. He appeared in only two games before being ruled out indefinitely due to knee soreness. In this year's edition of NBA 2K, there will be all-time rosters for each NBA team, so stay posted to see what the Indiana Pacers' all-time roster will end up being.