POE 3.3 Builds For Sunder Juggernaut with Uber Lab
u4nba
Date: Aug/10/18 16:19:52
Views: 5262
This build is a solid league starter. It is able to progress into red maps and farm the Uber (Eternal) Labyrinth on a tight budget. Below is the setup that I am running for farming Uber Lab and Guardians. Instead of Atziri's Disfavour, you can use any two-handed axes, but it is a big upgrade in terms of damage.
3.3 Changes:
Earthquake
- The base delay between the initial attack and the aftershock is now 1 second (down from 1.5 seconds).
- The aftershock now deals more damage as the gem levels, dealing 69% more damage at gem level 20 (up from 50%).
Vaal Earthquake
Added a new Strength gem - Vaal Earthquake: Smash the ground, dealing damage in an area and cracking the earth. The crack will erupt in a powerful aftershock after a short delay. Your steps will deal damage around you for a duration, cracking the earth if the previous cracks have erupted.
Vaal Skill Changes
- Vaal skill gems now also grant the base version of the skill at the same level and quality as the Vaal gem. For example, a Vaal Burning Arrow skill gem now grants both the Vaal Burning Arrow and the Burning Arrow skills.
- Using a Vaal skill now prevents you from gaining souls for all Vaal skills for a short period of time after the skill is used. The duration of this effect varies from skill to skill.
- Whereas previously the cost of Vaal skills would increase in areas after Act 5, and again after Act 10, the cost of all Vaal skills is now consistent throughout the game. This is worth keeping in mind when looking at the following changes, as although many Vaal skill costs have been raised when compared to their base cost previously, they are typically now lower than the cost you would have paid in higher-level areas.
- Damaging rare enemies now generates 1 Vaal soul per 2% life it loses, with a 1-second cooldown.
- Damaging unique enemies now generates 3 Vaal souls per 2% life it loses, with a 1-second cooldown.
Ground Slam
Ground Slam can be used with axes.
Gem Links:
6L EQ: EQ + Less Dur + Fortify + Conc/AoE + Melee Phys + Maim
6L: Warchief + Melee Phys + Faster Attacks + Conc + Bloodlust + Maim
4L: Leap + Faster Attacks + Blood Magic + Culling Strike or Fortify
3L: CWDT lvl 1 + Enfeeble lvl 5 + Blood Rage lvl 7 (also consider Blood Rage when optimizing EQ attack time and duration)
1L: Enduring Cry, Hatred, Herald of Ash and/or Arctic Armour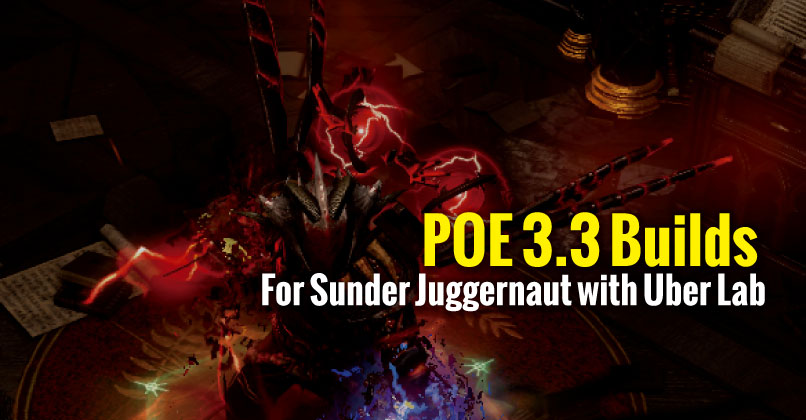 Ascendancy:
Lab: Unflinching, Unbreakable, Unstoppable, Unrelenting
Mapping: you may take Unyielding instead of Unrelenting or Unbreakable or Unstoppable (kinda depends on map tier/map mods/gear / personal preference)
Note: Unyielding is ~5% more dmg (8 and -> 40% inc dmg -> results in ~5% more DPS)
Pantheon:
Farming maps: Gruthkul, Lunaris
Farming guardians: Tukohama, Solaris
Flasks:
Atziri's Promise, Lion's Roar, instant heal (+ bleed removal), another instant heal (+increased Armour during flask effect), basalt (+freeze removal)
Jewels:
24+ Damage from:
- Melee Damage
- Physical Damage
- Physical Damage with Axes
- Physical Damage with Two-Handed Melee Weapons
- Area Damage
6+ Attack Speed from:
- Attack Speed
- Attack Speed with Axes
- Attack Speed with Two-Handed Melee Weapons
Earthquake optimization:
If your attack speed is "too high" you will only get the aftershock every second attack. Adjust your attack speed and skill duration to have a shorter skill duration than attack time. To achieve this, I'm using:
- 30% less EQ duration enchant
- 20% quality Less Duration gem
- Warped Timepiece amulet
Pob Link:https://pastebin.com/pWDri5AP
Skill Tree:https://tinyurl.com/y7m2lgfw
Typically, they are not worth the issues for motives which might be ample within the lengthy run. When they're important for players who may well know nothing at all at all regarding the game. For probably the most portion, they may be getting out resources for newcomers to ease them into your game. For any good deal extra Path of Exile 3.3 Builds, it is possible to pay a go to U4gm.com. Only a reminder: you'll get 5% coupon code free of charge of charge while in the reps in case you Obtain Poe Currency order from this post.