The All 17 Classic Teams Are Confirmed In NBA 2K18
u4nba
Date: Aug/28/17 01:45:49
Views: 3883
More than two! 2K unveiled two new classic NBA 2K18 teams, bringing the number to 17 out of the 17 that will be in the game. These are:
The 2010-11 Chicago Bulls with Derrick Rose, Joakim Noah, Carlos Boozer and Luol Deng.
The 2011-12 New York Knicks with Carmelo Anthony, Amare Stoudemire, Jeremy Lin, Tyson Chandler and J.R. Smith.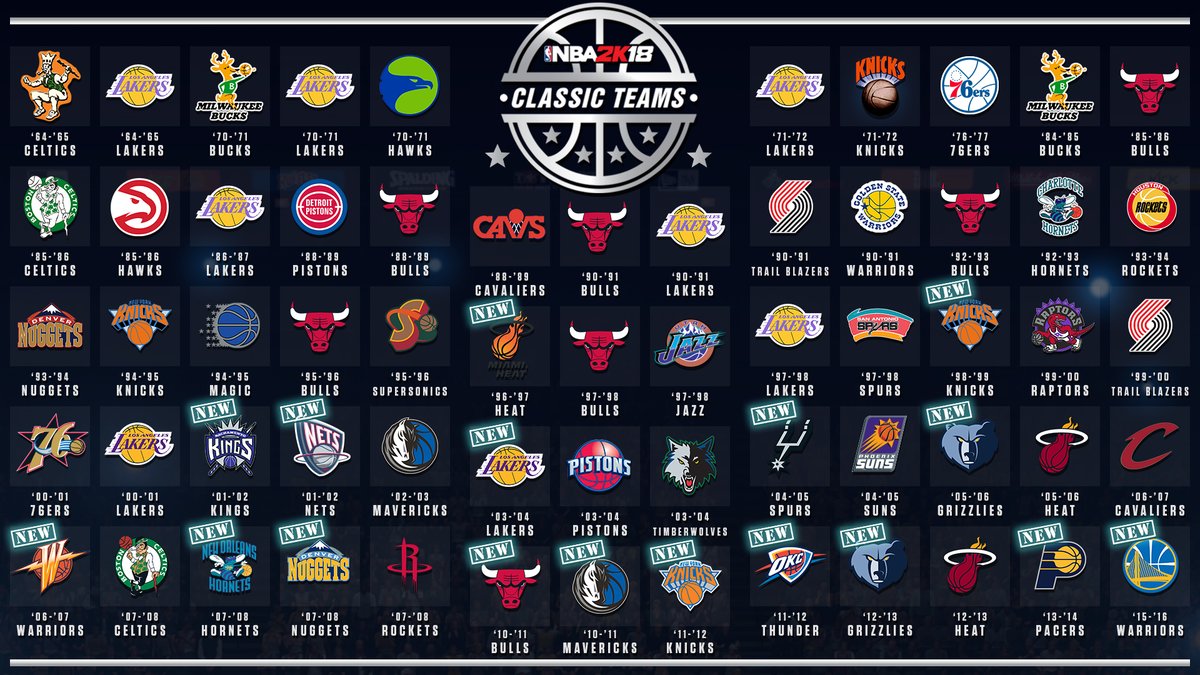 The other 15 teams:
The 2007-08 New Orleans Hornets with Chris Paul, David West, Peja Stojakovic or Tyson Chandler.
The 2013-14 Indiana Pacers with Paul George, David West, Lance Stpehenson, George Hill and Roy Hibbert.
The 2015-16 Golden State Warriors with the trio Stephen Curry, Draymond Green and Klay Thompson, who hold the record of wins over a season.
The 2010-11 Dallas Mavericks, NBA champions with Dirk Nowitzki.
The 2011-12 Oklahoma City Thunder, who went on to final with Kevin Durant, Russell Westbrook and James Harden.
The 2007-08 Denver Nuggets with Carmelo Anthony, Allen Iverson and J.R. Smith (or Yakhouba Diawara).
The 1996-97 Miami Heat with Alonzo Mourning and Tim Hardaway.
The 1998-99 New York Knicks with Patrick Ewing, Larry Johnson and Allan Houston.
The 2005-06 Memphis Grizzlies with Pau Gasol, Damon Stoudamire, Mike Miller and Shane Battier.
The 2012-13 Memphis Grizzlies with Marc Gasol, Rudy Gay, Mike Conley and Zach Randolph.
The 2003-04 Los Angeles Lakers with Shaq, Kobe Bryant, Karl Malone and Gary Payton.
The 2001-02 Sacramento Kings with Chris Webber, Mike Bibby, Peja Stojakovic and Vlade Divac.
The 2001-02 New Jersey Nets with Jason Kidd, Kenyon Martin, Keith Van Horn, and Kerry Kittles.
The 2004-05 San Antonio Spurs with Tim Duncan, Tony Parker and Manu Ginobili.
The 2006-07 Golden State Warriors with Baron Davis, Stephen Jackson and Jason Richardson.