The Raptors And Hornets Pack Now Available For Players In NBA 2K17
u4nba
Date: Oct/08/16 17:31:06
Views: 1933
NBA 2K17 is among the latest titles to arrive this year. Aside from intense games and the riveting MyCareer, players can also spend their time playing MyTEAM. The mode allows players to collect a wide array of cards featuring their favorite players. New NBA 2K17 MyTEAM Throwback Packs are now available.
The NBA 2K17 Throwback Thursday this week is bringing the Raptors and Hornets pack in MyTeam. 2K Games has confirmed that the pack is now available for players, so they can collect the cards of their favourite players. The new throwback packs will replace last week's Miami Heat and Atlanta Hawks.
2K Games is giving fans the chance to collect a historic player from any of the two franchise. There are certain ways to get cards for multiple packs.
Through virtual currency in NBA 2K17, players can simply buy these packs. Each of these packs includes one player and four in-game items. To get one pack, players will need to shell out 4,275 MT points or they can also buy it with 7,500 VC. If you are looking for more, you can collect 10 packs by spending 67,500 VC.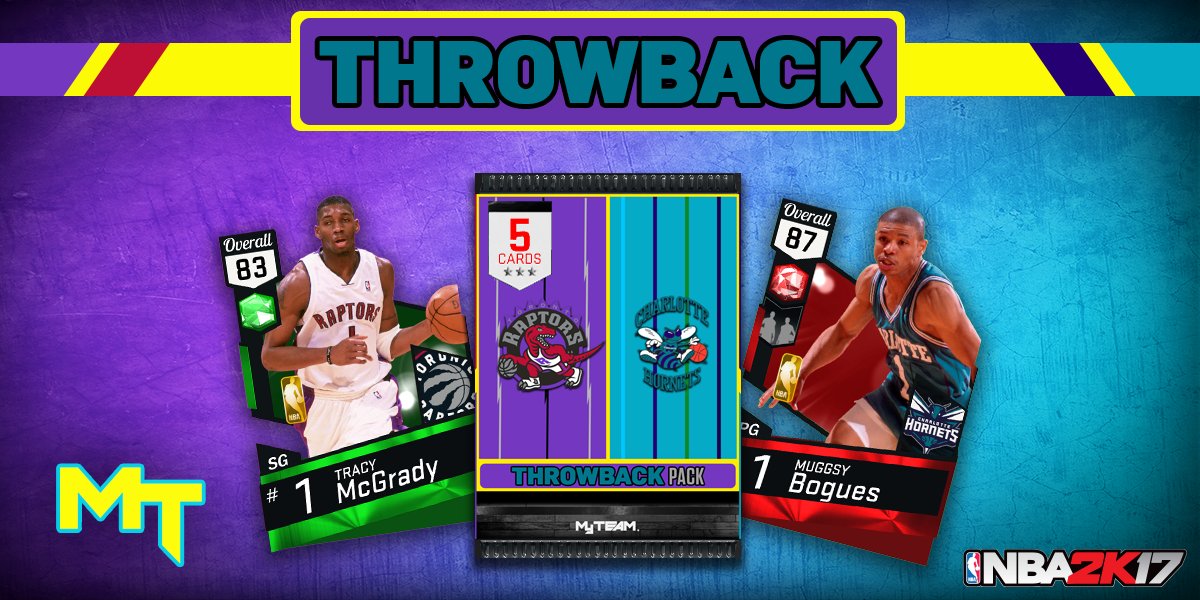 There's also one throwback bundle that brings around 21 packs that cost you 150,000 VC. This pack will give you one guaranteed player from any of the above mentioned franchise. Although the currency requirements for the pack is quite high, players can simply follow the tricks that help them earn VC fast in NBA 2K17. The bundle also gives players a topper which can be a Ruby, Sapphire or Emerald.
Last week the developer revealed the NBA 2K17 Throwback Thursday packs introducing Miami Heat and Atlanta Hawks which was quite interesting. This week when 2K announced the packs, it seems that not everyone is pleased with the new addition. After spending a lot of virtual currency on pack bundles, players feel that the content is not worth it.
It completely depends on the player whether he finds how effective the packs are. Based on 2K Games' strategy, the more you spend on these packs, the more your chances are of collecting historic players from Hornets and Raptors franchise. It is all about how you choose to invest your hard-earned VC or MT points.
For more video game news and reviews, check out the latest issue of U4NBA or visit the website at u4nba.com.