The Special NBA 2KTV Episode 15 Features A Packed Holiday
u4nba
Date: Dec/24/16 00:42:09
Views: 4268
The special NBA 2KTV episode 15 is coming! This time's episode features a packed holiday which contains Derrick Rose and Paul George. Notably, the reward of this episode is pretty good.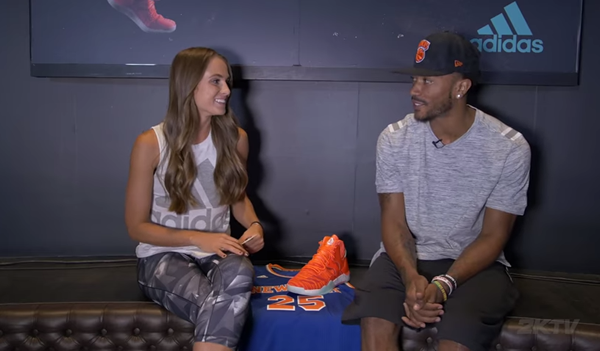 Here are the questions and correct answers for this week's 2KTV episode:
Q1: What are you looking forward to watching in this episode of 2KTV?
A1: Any Answer - 50 VC
Q2: How do you find players to fill out your 2K Pro-Am team's roster?
A2: Any Answer - 50 VC
Q3: What year did Derrick Rose win the Skills Challenge?
A3: 2009 - Temporary Playmaking Boost for MyPlayer
Q4: What is your favorite part of MyCAREER?
A4: Any Answer - 50 VC
Q5: What do you recommend new NBA 2K players try first?
A5: Any Answer - 50 VC
Q6: Which one of Linda Lind's songs plays during the breakup scene with Alanah?
A6: Reckless Behavior - 100 VC
Q7: What would you like to see covered in a future Expert Tip?
A7: Any Answer - 50 VC
Q8: Which mode will help you the most when first jumping into NBA 2K17?
A8: 2KU - 100 VC
Q9: Which of these 2KTV guests has won the Skills Challenge?
A9: Karl-Anthony Towns - 100 VC
Q10: What is Paul George's role with NBA 2K this year?
A10: NBA 2K17 Cover Athlete - 100 VC
Q11: In MyTEAM, you can win cards by taking your lineup to the street in which mode?
A11: MyTEAM Blacktop - 100 VC
Q12: Which hashtag can you use on social media to submit your Top Plays?
A12: #2KTVWOW - 100 VC
Q13: Vote for your #2KTVWOW Top Play of the Week!
A13: Any Answer - 50 VC
Q14: In MyPARK you can join or create a _ to easily get into games with friends.
A14: Squad - Exclusive 2KTV He Dribbles Too Much for MyPLAYER
This Chrismas special features 14 questions with 900 VC in total as a reward. As players think, 900VC + boost + t-shirt, it's not bad for Christmas. By the way, Christmas uniforms and socks are now available in NBA 2K17 for all 30 teams.